Hi and welcome to my day on the Let's Get Acquainted! Blog Hop, hosted by the wonderful Beth at
Plum and June
.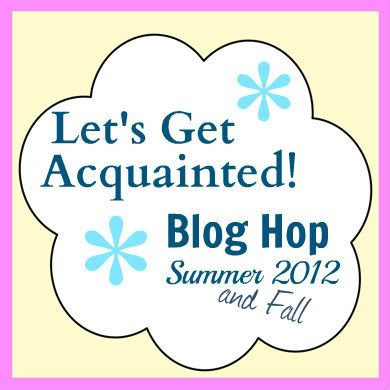 My name is Marit (pronounced Mah-ritt) and I am a Norwegian-American living just outside Oslo, Norway with one husband (yes, only one)), one baby girl and one cat. I looooove all stitchy activities - sewing, quilting, crocheting, knitting, embroidery, you name it! I also love baking, chocolate, a good glass of red wine and travelling. I wish I loved exercising and vegetables as much as sewing and sweets...
I've been blogging 4 months now. Let's start off with showing you my completed projects - as you can see, I love color!
Now - let get down and dirty with some details about me (me, me, me)!
How long have you been quilting:
I made my first actual quilt when I was 13 (it's kind of ugly, so I won't show it to you) and since then I've been quilting on and off the last 18 years. If you don't want to do the math, that makes me 31 years old.
Favorite blogging tip:
Be social and make friends. Comment on other blogs and reply to all comments on your blog (as much as possible). Flickr is a great place to meet like minded crafters by joining different groups and swaps (and bees, but I haven't tried that yet).
Favorite chocolate:
Milk chocolate, with or without nuts. And white chocolate Toblerone.
WIP: Vintage Holiday quilt - waiting to be basted, quilted an bound
Favorite craft book:
I have too many and hardly make anything from them... But I really like the projects in Zakka Style. The Fat Quarterly Shape Workshop has a lot of great modern blocks and projects. And if you don't already subscribe to the Fat Quarterly e-zine, I highly recommend it.
Favorite cookie:
Chocolate chip cookies (
this
is my favorite recipe), with cold, cold milk to drink.
Favorite quilting tool:
Besides the usuals, I love using stick-on leather thimble dots when hand quilting/embroidering/hand sewing binding . So much more comfortable than your traditional thimble!
Binding by hand or machine:
By hand if the back will be seen, by machine if not (table runners, for example).
Favorite wines:
Riojas, Cabernet Sauvignons and Syrahs/Shiraz. Or a good, dry Riesling. Mmmm, mmmm, mmmm! (Don't worry, I don't have a drinking problem. In fact, with being either prego or nursing the last 16 months, wine has been a low priority in my life.)
WIP: Front panel for tote for Mouthy Stitches 2 Swap
Wish I'd know before starting blogging:
How fun and social it would be and how much time it takes. A lot of time!
Favorite places to visit:
Italy is beautiful (well, Norway is too, but that's just home to me). England is friendly. Copenhagen, Dublin and Edinburg are perfect sized big cities. Japan is on the wish list... And a safari in Africa would be cool...
My tutorial for you can be found in the post below or by clicking
here
. I have channeled my inner Elizabeth Hartman (if you have her books, you will know what I mean) and made some color options at the end for your inspiration:)
Check out the tutorial and let me know what you think! And then check out the other blogs on the blog hop this week:
Oct 9
Amy from
Sew Incredibly Crazy
Foster from
Foster Reviews It
Oct 11
Chrissie from
madebyChrissieD
Thank you so much for stopping by - leave me a comment and Let's Get Acquainted!
-Marit