Hello and welcome to my blog, dear reader (new and old)!
June is over and it was a month full of firsts - first time I'd ever blogged, first blocks were made for my Dear Jane quilt (like Farmer's Wife but more blocks...), first time sewing for charity, first time participating in a block-of-the month club, first time making paper pieced hexies, and the month of my thirty-first birthday.
DEAR JANE BLOCKS - 8 of 169 done!
PILLOW CASES FOR CHARITY
MYSTERY B.O.M.
HEXIE PROJECTS (not completed)
My favorite project of June was the Hexie pouch - top hexie photo - but I need to take it apart and reassemble it to get the zipper to my liking.
In recapping the month, I will also admit this was a month of high volume fabric and quilting book shopping... Not that I don't have quite a bit of these things already, but there's just so much cool new stuff to be had. I just got my tax refund (yay) and I had some money to spare for sewing stuff (double yay). Lots of packages in the mail (quite a few I will admit) and I will be waiting by our mail box every day this week. Now that July is here I am determined to do less shopping and more sewing. Unless I really NEED some fabric for a SPECIFIC fabric (as opposed to I WANT some fabric to keep in my STASH).
Plans for July sewing:
Continue my two-per-week progress on Dear Jane (kind of feeling like a chore, but I think I just need some variation from the 9-patch designs we started out with)
Participate in the Christmas in July event at Sew Festive Handmade - I LOVE homemade Christmas stuff and maybe I'll even get some Christmas gifts made this summer. Double bonus!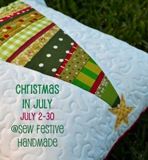 Make zipper pouch based on this pattern, thus hopefully gaining important insight into making pouches with nice zipper areas and then fix Hexie zipper pouch as pictured above.
Make some baprons for baby girl who is just starting to eat solids - some laminated cottons have been ordered and should arrive tomorrow according to UPS.
Participate in the Vintage Christmas sew-along at Fabric Mutt - starting July 9th - I've been ogling this pattern for a couple of weeks now, so really excited about this one.
Find a quilt pattern to make with my California Girl fabric, of which I accidentally bought two layer cakes (two times 42 10"x10" fabric squares) - love the fabric and hope to find a pattern soon that does it justice.
Sew some paper pieced hexies for yet to be determined project (because I need something to sew that doesn't require a sewing machine - don't want to be in my sewing room all summer).
Okay - that is really it. To you Norwegian readers - sorry this is all in English, the post is just too long to translate!
I am linking up to Lily's Quilts Small Blog Meet today - if you are too, leave a comment and I'll come visit!