Can you believe it is only 100 days left of 2012? And that means about 92 days and counting until you have to be done with Christmas gifts (for those who celebrate Christmas). Eeeek!!!
Kelsey of
Kelsey Sews
is hosting The 100 Day Hustle, a supportive work-along for all us stressed out list-makers. Well, at least I get stressed out... So please give me some support!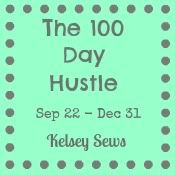 The initial link-up is open September 22-25 and you can find the full schedule
here
. Did I mention there will be prizes? Yes. And you don't have to finish your list to win - how great is that?!?
So... On to the list making. I know my list is too long, and it will probably get ammended during the journey. But that is OK. So here goes - sorted by project type and kind of in order of priority...
QUILTY STUFF
WIP: finish Vintage Holiday quilt
Table runner with AMH feather pattern - thank you gift for my grandparents (waaay overdue...)
WIP: Finish California Cherry Blossom quilt top, send to professional quilter?
WIP: Finish Windy City Days baby quilt
Jack Attack quilt
Baby quilt for brother's baby due mid-December (gender a secret - boo)
Christmas tree skirt using some Joy charm packs in stash
GENERAL SEWING
Tote bag and key fob for Mouthy Stitches 2 swap DUE 10/20
Something (still a mystery to me) for the Let's Get Acquainted Blog Hop DUE 11/12
Kenwood Mixer cover DUE 11/27
Minky/flannel blanket for brother's baby (same baby as above)
Hot pads/oven mitts (Christmas gift)
Zakka style nesting boxes (Christmas gift)
Cushions or tote bags for 2 nieces and 1 sister (Christmas gifts)
Christmas stocking for babygirl
Sewing machine cover (for ME)
CLOTHING (not high priority, but have all materials ready...)
Baprons for babygirl using laminated cotton
Christmas dress for babygirl
Liberty scarf (with crochet lace on ends?)
KNITTING (to get myself out of my sewing room, but not high priority)
Chunky cowl for myself (maybe crochet)
Red Christmas dress for babygirl (maybe...)
Green sweater for babygirl (have yarn)
Purple dress for babygirl (have yarn)
OK, I think I will end here. There are 23 things on my list. That gives me 4-5 days for each. Ummm, yeah. That's probably a bit unrealistic. I'll be lucky if I get half of these done. And I probably want to add some more Christmas gift items as I come up with more ideas. And this is only my CRAFTY to-do list. I do have other things to do... Time to crank up that sewing machine!
Now, what do YOU have on your to-do list?